Bank of Montreal is a full service bank that offers services around the world. Through their network of ATMs, online banking, and mobile app, your money is available to you and in your control all day every day. Along with daily personal banking, business banking is available for businesses of all sizes and incomes, as well as wealth management systems and capital markets for all your investing needs.
All Bank of Montreal branches have changed and adapted in response to COVID-19. Hours for all open branches have been changed to 10 am – 4 pm, while some branches have removed access to the lobby for customers. BMO hours of operation are closed throughout the weekend.
BMO HOURS

MONDAY
10 AM - 4 PM
TUESDAY
10 AM - 4 PM
WEDNESDAY
10 AM - 4 PM
THURSDAY
10 AM - 4 PM
FRIDAY
10 AM - 4 PM
SATURDAY
Closed.
SUNDAY
Closed.
In the event that your local branch has closed, please see the branch locator for the next open branch and their hours.
For your at home banking needs, BMO online banking has several options and is available all day every day, and never closes. All necessary account types are available, from chequing and savings accounts, business accounts, mortgages, line of credit, credit cards, long term and short term investing, along with financial planning and even travel services.
Mobile banking is also available. Pay bills, check balances, and make transfers from wherever you are. To make things even easier to complete all your transactions, you can deposit cheques through the mobile app as well. This allows for you to complete all your necessary banking without having to attend in person at a location.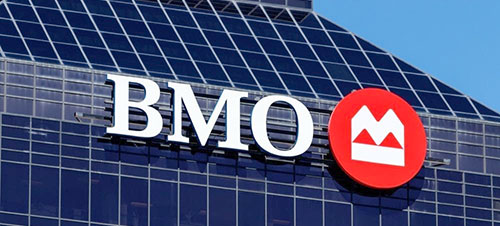 Bank of Montreal is currently offering many options to help you to get through this time. From increased daily spending limits on debit cards, you can check this limit through your online banking options or your mobile app, you are still protected from fraudulent charges even with these higher limits. A mortgage payment deferral is offered for those who qualify.
BMO Near Me
Most BMO locations will have operating hours that are similar, but as they may vary across the country it is beneficial to look up the location closest to you.
This will offer a map and a list of the location near you and also show which services are offered in each location, ATM, drive thru, or financial planning among others.  The banks will be closed on weekends and all holidays, both provincial and federal. Find the locations near you on the website here https://branchlocator.bmo.com/