Wegmans Catering offers a huge range of meals for different occasions – tailgating, sporting events and just any parties. Customers can place orders online for their events depending on the nature and feel they desire – from sandwich and Asian favorite meals to salad fixings, Wegmans Catering is committed to providing great, quality meals for any group size. There are two catalogues that provide the favorites of any individual or group for events – the Entertain catalog and Kosher catalog.
Wegmans Entertain catalog includes Seasonal Favorites, Deserts/Bakery, Fruits, Vegies and Finger Food, Asian-style Party Starters, seafood, International Cheeses, Mediterranean, Salads, sandwiches, pizza and wings and lots more.
WEGMANS CATERING PRICES

SEASONAL FAVORITES

Roasted Carrots, Kale, Craisins, and Sunflower Seeds
$28
12 people
Ready-to-Bake Meat Lasagna
$48
12 people
BBQ Meatloaf Sliders
$40
12 people

DESERTS/BAKERY

Pumpkin Bread Pudding
$28
1-12 people
Tres Leches Cake - 1/8 sheet
$15
8 people
Tres Leches Cake - ¼ sheet
$30
16 people
Tres Leches Cake - ½ sheet
$60
30 people
SEASONAL FAVORITES
Included as a part of the seasonal favorites are:
Roasted Carrots, Kale, Craisins, and Sunflower Seeds – ingredients include a simple and colorful mix of kale, craisins, sweet roasted carrots, and unsalted sunflower seeds along with seasoning to taste. It is well packed to serve a group of 12 for $28.
Ready-to-Bake Meat Lasagna – ingredients include a well simmered lean ground beef and mild Italian Sausage added into a special seasoned tomato sauce and layered with tender pasta and a blend of Italian cheese. This pack also serves a group of 12 for $48.
BBQ Meatloaf Sliders – this is made up of 24 perfectly prepared meaty beef sliders in smoky sweet Memphis BBQ sauce along with two dozen soft Martin's Potato Dinner Rolls. The meatloaf is ready to serve once you reheat and this sumptuous meal serves a group of 12 at $40.
DESERTS/BAKERY
The deserts/bakery produce includes:
Pumpkin Bread Pudding – Wegmans pane Italian bread, pumpkin puree, milk, ginger, classic spices like cinnamon, cloves, eggs, and vanilla. The pumpkin bread pudding is well packed to serve a group of 1-12 people for $21.
Tres Leches Cake – Spanish phrase for "three milks", tres leches cake is a classic desert which features a moist vanilla sponge cake which is soaked with three milks: whole milk, evaporated milk, and condensed milk. This special cake is now topped with sweetened whipped cream, fresh strawberries and cinnamon. Tres Leches Cake comes in three packages. The 1/8 sheet serves 8 people for $15, the ¼ sheet serves 16 people for $30 while the ½ sheet serves 30 people for $60.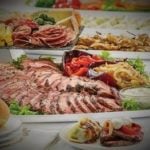 Fruits, Veggies, and Finger Food
Cubed Cheese and Fruit Tray – ingredients include Colby, cheddar, sweet cheeses, and pepper jack garnished with strawberries and grapes.
Fresh Fruit Tray – ingredients include red seedless grapes, cantaloupe, watermelon, strawberries, honeydew, and pineapple along with Wegmans Low fat French Vanilla yogurt.
Wegmans Kosher catalog includes Turkey dinner, sliced beef brisket dinner, baked foods, dairies, and tasty traditional meals.
Turkey Dinner
Turkey dinner includes slowly roasted, but fully cooked turkey with gravy, vegetable soufflé, matzah balls, sweet carrot tzimmes, kasha varnishke, chicken broth, potato kugel, and apple noodle kugel.
Tasty Traditional Meals
Wegmans Catering team is always available to provide you tasty traditional meals whether you are celebrating Shabbat Dinner, Rosh Hashanah, or a Bar/bat Mitzvah. Most of the traditional meal items are packed to serve 6-12 people.
The pricing at Wegmans Catering conforms properly with the supermarket prices, with quality products offered at relatively inexpensive prices. Wegmans Catering customers can now place orders online, offering them convenience and quality.
Other Wegmans Catering offers include Wegmans Party Platters, Fall Flavors, Wegmans Pizza Menu, Wegmans Party Trays – Starters and Small Bites, Wegmans Sushi, Wegmans Deli Trays, and Wegmans Salad.
Placing an order from Wegmans Catering store is a pretty easy process. First, you would need to select a store where you would wish to pick up your order. If you do not find a store in the list, this would mean that Wegmans Catering is not listed in the options. For further information concerning this, please call 1-800-914-4438. Once you have found the nearest Wegmans Catering outlet in your area, choose the items you would like to order and tap the "Add to Order" button. When your order is complete, click on the "Save Order to Checkout" button so you can pre-pay online and allow Wegmans Catering do the rest for you.
Wegmans Catering is the perfect go-to service for your parties and events. If you are organizing a party, a prior 24-hour notice would allow Wegmans Catering staff time to prepare, organize and get all your items ready.
Wegmans Catering also has a great cancellation policy that allows customers cancel their order – and without any charges. However, a 24 hour notice would be required. For your order to be cancelled, contact the catering department of the Wegmans store your order was placed and a time would be scheduled for your pick up. Endeavor to pick up your order within 24 hours of the scheduled time to avoid any cancellation fee charges.
Do have in mind that all side dishes and entrees are cold at pick up and would require heating before they are served. It is important to keep this in mind while drawing up your party timetable.
Wegmans Pittsford Catering
Wegmans Pittsford Catering store is located at 3195 Monroe Avenue, Rochester, NY and they are usually open for 24 hours. It is possible to reach the Catering outlet at Pittsford with the directions on the website. Once you input your address, you could ask for driving directions and a map would be provided to guide you through until you arrive at your destination. If there any questions or enquiries you may need to make, please call 585-249-0278 and you would reach Wegmans Catering in Pittsford directly.
The online order arrangement made available by Wegmans Stores for its Catering department also applies to the Catering department of Wegmans Store at Pittsford. You can pre-order online following the smooth, user-friendly steps and Wegmans Catering at Pittsford would arrangements for your order before you arrive.