As you might expect, Walmart Deli offers fantastic prices for a wide range of popular deli products. Not only that, but they have an extensive range of products, from quality meats to a range of classic side dishes.
Items can be purchased by the pound, individual or part of a handy meal deal that allows for further savings at Walmart Deli. These foods are great for making an easy meal at home or for grabbing something on the go after a spot of shopping.
WALMART DELI PRICES

MARKET SIDE PRICES

8 Piece Fried Chicken
$6.98
Meal Deal
- 1 Entree
- 1 Side
$3.98
Rotisserie Chicken
30 o.z
$4.98
Rotisserie Chicken Meal
- 30 o.z chicken
- 1 side & cole slaw
- 2 litre soda
$9.48
3 Kinds of Delicious
(Pick 3 Buckets)
- 2 Meats
- 1 Side
$12.88
Landshire Sandwiches
$1.88
ITEMS PER POUND

CHICKEN WINGS

Hot Wings
$5.98
Wings (Ranch)
$5.98
BBQ Wings
$5.98
Wing Zings
$5.98
WING DINGS
$5.98

DISHES & SIDES PER POUND

SEAFOOD

Popcorn Shrimp
$5.48
Tilapia Fit
$5.48
Jumbo Shrimp (5)
- Breaded
$2.48

SALADS

Devil Egg Potato Salad
$2.48
Amish Mac Salad
$2.48
Seafood & Shrimp Salad
$3.98
Chicken Salad
$4.98
Chicken Salad
w/ Nuts + Fruits
$5.48

POTATO

Potato Wedges
$2.98
Redblis Potato
$2.48
Amish Potato
$1.78
Loaded Baked Potato
$3.98
Mashed Potato
$2.98

OTHER DISHES & ITEMS PER POUND

Cheesy Mac
$3.88
Green Beans
$1.98
Okra
- Breaded
$2.98
Cheese Sticks
$3.78
Chicken Tenders
$5.98
Jalapeños Stuffed
w/cheddar
$4.98
Corn Dogs
$0.98
Regardless of what you are looking for, one thing that you can expect from Walmart Deli is incredibly low prices. This is certainly the case here as there are many deli products that are available here for a fraction of the price they would be elsewhere.
For example, customers can enjoy a meal deal, that includes 1 entrée and side, for only $3.98. Another great example of the amazing rates includes a 30oz rotisserie chicken for only $4.98 or a pound of chicken wings for only $5.98.
Prices like these can be found throughout Walmart's deli menu. Most items cost around the $5 mark or under, with only a few items costing more than these, and those that do tend to offer large portions so you are still getting incredible value for money!
Additionally, many items are available by the pound, so you can buy as little or as much as you may need! This provides lots of flexibility with your shopping at Walmart Deli!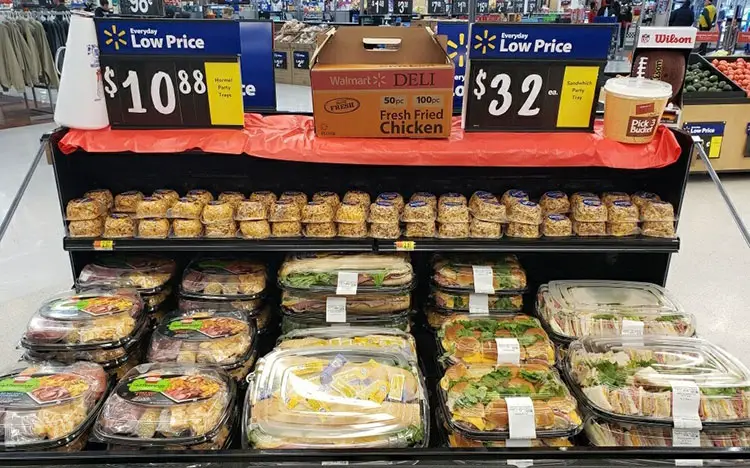 Walmart Deli Menu
The Walmart Deli menu is stacked will all manner of delicious foods. These range from classic deli cuisine such as meats and cheeses to classic homemade meals that don't require any effort to make!
For example, there is a rather impressive chicken selection available on Walmart's deli menu. This includes fried and rotisserie chicken, not to mention many varieties of hot wings (BBQ, ranch, hot etc.)
Beyond this, Walmart's deli menu features a number of popular foods that aren't going to disappoint. For instance, customers can purchase potatoes, salads, and even seafood orders by the pound.
There's also a number of meal options too, such as the rotisserie chicken meal, 3 Kinds of Delicious meal (2 meats and 1 side) and a meal deal for one (1 entree and 1 side). Not only that, you can also enjoy some tasty sandwiches from Walmart Deli!
Furthermore, there is a number of classic dishes and items available by the pound. These include meals that wouldn't be out of place in the home, but with the added bouncs of not having to do any of the cooking!
Foods such as cheesy mac, chicken tenders, and corn dogs are a few notable examples! Combining these with any other of the delicious foods from Walmart Deli and you will have one amazing meal on your hands!