Publix Subs Menu are some of the best around, with affordable yet delicious ingredients available throughout the menu.
Beyond the chicken, Publix Deli has a fine selection of both hot and cold sandwiches available. These come with the same fine prices found throughout Publix Deli menu, with subs costing around $5 for half subs and closer to $7/$8 for whole subs.
Sandwiches are available either hot or cold and in half or whole, with some also being available as a wrap instead. The subs on Publix Deli menu tend to be based on classic flavours, so you will find common fillings such as pork, chicken, steak etc.
PUBLIX HOT SUBS MENU

Asian BBQ Pork
Half Sub
$5.49
Asian BBQ Pork Sub
Full
$7.99
Chicken Cordon Bleu Sub
Half
$4.79
Chicken Cordon Bleu Sub
Whole
$7.99
Mojo Pork Sub
Half
$5.09
Mojo Pork Sub
Full
$6.49
Philly Cheese Steak
Half
$6.49
Philly Cheese Steak
Full
$8.99
Reuben
Full
$7.09
PUBLIX COLD SUBS MENU

Half Sub
$5.29
Full Sub
$6.49
Wrap
$5.49
Boar's Head
Half Sub
$5.49
Boar's Head
Full Sub
$7.69
Boar's Head Wrap
$5.99

VEGGIE

Half Sub
$4.29
Full Sub
$5.69
Wrap
$4.79
PUBLIX DELI PRICES

CHICKEN

ROTISSERIE

1/4 Chicken
Leg & Thigh
$2.79
1/4 Chicken
Breast & wing
$2.99
1/2 Chicken
$4.39
Full Chicken
$6.99

ROTISSERIE CHICKEN MEALS
includes 2 sides plus roll

1/4 Chicken
Leg & Thigh Meal
$4.99
1/4 Chicken
Breast & Wing Meal
$5.25
1/2 Chicken Meal
5.79

A FAMILY COMBO MEAL

Full Rotisserie Chicken
- 32 o.z sides
- 4 Dinner rolls
$11.99
8 Piece Mixed Chicken
- 32 o.z sides
- 4 dinner rolls
$11.99

FRIED CHICKEN


MIXED CHICKEN PIECES

8 Piece
$7.69
12 Piece
$11.39
16 Piece
$14.99
20 Piece
$18.49

DARK MEAT
Thigh, Leg & Wing

8 Piece
$7.19
12 Piece
10.29

COMBOS
includes 2 sides & Roll

2 Piece Dark Meat
$4.59
2 Piece Mixed
$5.59
3 Piece Mixed
$6.59
3 Tenders
$6.99
Popcorn Chicken
Small
$2.99
Popcorn Chicken
Large
$3.99
Popcorn Chicken
- 1 lbs
$6.59
Chicken Tenders
1 lbs
$7.89
Wings
- 1lbs
$6.49
20 Piece Spicy Wings
$9.49
Side Dishes
- Small
$1.99
Side Dishes
- Large
$3.19
Better still, you can enjoy rotisserie chicken meals that includes 2 sides and a roll, which costs around $5, again highlighting how Publix Deli prices offer great value for money.
In fact, most chicken based foods from Publix Deli come with fantastic prices. For example, you can purchase various combos that include different types of chicken (tenders, popcorn, dark meat, mixed meat etc.) for around $5/$6.
Publix Deli Menu
As previously mentioned, Publix Deli menu mostly consists of sandwiches and cooked chicken.
It is the chicken selection on Publix deli menu that really impresses however. You can find chicken prepared in a number of different styles, including roast, fried, and rotisserie. They come in various cuts too, with thigs, legs, wings, tenders, breasts, and even whole chickens available.
These can be combined with tasty sides to provide some awesome comfort food that will not fail to satisfy.
Even better is the fact that chicken from Publix Deli can be purchased in a number of different ways. This includes family and individual meals that come with sides, single pieces, and mixed pieces too.
There's a nice selection of foods too, from sandwiches to chicken, all of which never fail to disappoint thanks to their incredible freshness. In fact, there aren't many better ways to reward yourself after a hard shop in Publix than with some from their amazing deli!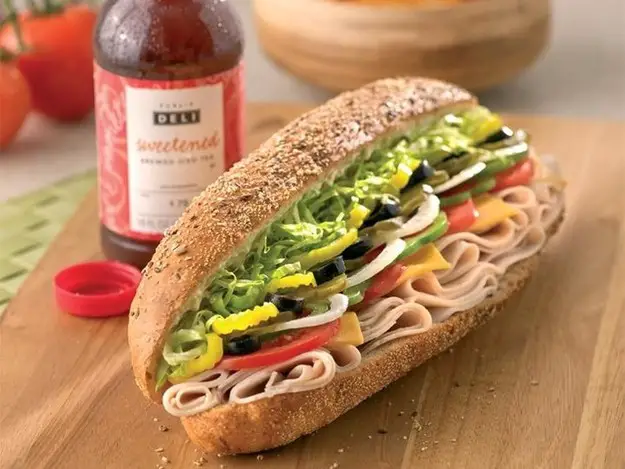 Perhaps one of the best priced items from Publix Deli is the rotisserie chicken. With a quarter leg/thigh available for only $2.79, it represents one of the lowest priced items from Publix Deli.
Likewise, most other types of rotisserie chicken are available for very little – a full chicken costs just $6.99!
So, whether you are shopping for yourself or looking to grab something for the entire family, Publix Deli menu has got you covered!
Related Articles: