A four-day workweek might soon become a reality considering the socio-economic and cultural changes. Germany switched to four days a week in the 2008 recession which saved their economy from going into a depression. This not only kept the economy running but also the cycle of earning and spending which is the basis of all economic activity. They have adhered to this policy since then.

Countries like the Netherlands, Denmark, Norway and Sweden already have a four-day work week. It might be the time that you switch your week to be a four day one. The reasons sighted below will certainly motivate you.



Share this infographic on your site!
4-day workweek in the past
In the Bible we read: Psalm 127:1-2: "It is useless for you to work so hard from early morning until late at night, anxiously working for food to eat; for God gives rest to his loved ones."
19th Century: in most sectors, working hours of 10 to 12 hours were common
1900: the average work week in manufacturing was 53 hours
1926: Henry Ford cut the workday from ten hours to eight hours — and the workweek from six days to five days
2019: 8 hours / 5 days
4-day workweek now
Premise: #1 "Overwork is definitely a problem in America" . Burnout rates are 40 percent to 50 percent across most US fields.
Besides that, Nearly 86% of American men and 67% of women work more than 40 hours in any given week.
The average American works 44.5 hours in a typical week.
More than half of employees say they still work during their unpaid personal time, including nights, weekends and vacations.
Only three hours of productivity a day
Respondents were initially asked, 'Do you consider yourself to be productive throughout the entire working day?' to which the majority, 79% admitted that 'no' they weren't. Just a fifth, 21%, believed that 'yes' they were productive throughout the day.
The average answer was '2 hours and 53 minutes' of actual productivity in the workplace across all respondents.
The activities done instead of work:
Checking social media – 47%
Reading news websites – 45%
Discussing out of work activities with colleagues – 38%
Making hot drinks – 31%
Smoking breaks – 28%
Text/instant messaging – 27%
Eating snacks – 25%
Making food in office – 24%
Making calls to partner/ friends- 24%
Searching for new jobs – 19%
Time each:
Checking social media – 44 minutes (spent doing this during working day)
Reading news websites – 1 hour 5 minutes
Discussing out of work activities with colleagues – 40 minutes
Making hot drinks – 17 minutes
Smoking breaks – 23 minutes
Text/instant messaging – 14 minutes
Eating snacks – 8 minutes
Making food in office– 7 minutes
Making calls to partner/ friends – 18 minutes
Searching for new jobs- 26 minutes
Making food and eating snacks took up more time than was expected – during an 8 hour working day, the average employee admitted to spending 25 minutes preparing and consuming snacks and beverages, with tea rounds (making hot drinks) taking up a lot of the total.
Respondents were then asked, 'Do you think that you could get through the working day without partaking in any distractions?' to which only 35% admitted that 'yes' they could. The remaining 65% of respondents believed that 'no' they couldn't. Of these, 54% explained that they made the working day 'more bearable', so felt their productivity for the rest of the working day 'benefited from the intermittent breaks'.
Consequences of #1 ( Crunch Mode )
Productivity drops immediately upon starting overtime.
Working over 21 hours continuously is equivalent to being legally drunk.
Longer periods of continuous work drastically reduce cognitive function and increase the chance of catastrophic error.
Similarly, reducing sleep hours as little as one hour nightly can result in a severe decrease in cognitive ability, sometimes without workers perceiving the decrease.
Works more slowly, and makes more mistakes.
Continuous work reduces cognitive function 25% for every 24 hours.
One of the biggest productivity sinks created by Crunch Mode is the increase in the number of errors produced.
Longer hours do not increase output except in the short term.
Error rates climb with hours worked and especially with loss of sleep.
Studies have demonstrated lessened productivity and increased accident rates with 10 hour work days compared with 8 hour work days.
People get stressed. They get tired, make more mistakes and start going through the motions instead of being engaged in their work.
4-day workweek in the Future
First of all: it's not about working faster, but learning to work smarter - A shorter work-week promotes smarter solution. Here are facts:
Working longer makes you less productive at the same time that it encourages bad practices by your boss. Fewer hours does the opposite.
Working while tired, unfocused is counter-productive
Being plugged-in consistently for long hours is even worse for your mental focus, since you will quickly burn out.
+20% more CV's after implementing the four-day workweek (8 hours /day) => benefit of both the employees and their employer.
Friday has become much more productive. – CEO
Four business days is already normal for us. The phrase "it's monday again" has taken on an exclusively positive connotation - Employee
Three days off actually means 50% more free time than before – Relationship Manager
I'm humbled that my team has responded, and they went beyond my wildest dreams. (…) They were given the freedom to redesign things. (..) This become a revolutionary way to work. (..) What happens is you get a motivated, energized, stimulated, loyal work force. (…) I have ended up with statistics that indicate my staff are fiercely proud of the company they work for because it gives a damn. - Andrew Barnes - CEO Perpetual Guardian
Free Monday means you have time to solve those bureaucratic issues that cannot be solved during the weekend - PPC Specialist
Supervisors said staff were more creative, their attendance was better, they were on time, and they didn't leave early or take long breaks. Employees reported a 24 percent improvement in work-life balance - Jarrod Haar, a human resources professor at Auckland University of Technology

Even more advantages of four-day workweek:
improved the quality of employee's lives.
the shorter workweek increased employee productivity.
better planning individually and among teams.
Staff stress levels decreased by around 7% (employees report enhanced wellbeing reflecting positive effects)

Greater strength of the teams: more Hope, Confidence, Resilience and Optimism:
strong relationships within the company
an increase in the level of collaboration and teamwork
positive increase in team creativity behaviours and helpful behaviours
giving better customer service and being more punctual
better staff attendance - they were on time, and they didn't leave early or take long breaks
team engagement rose around 20% on average.
better communication: willingness to 'help each other out'
greater sharing of information and/or delegation of tasks.
increasing appreciation and trust for the ability and reliability of team members.
spending less time on social media or non-work activity. One employee even told the CEO that he stopped looking at emails from his wife about an ongoing apartment search during work hours

more time to Develop your Professional Career
the same or even higher level of efficiency
the increased level of focus and presence, a 'head down' 'just do it' approach to one's work
you are more mentally rested
heavily influences employee job outcomes (satisfaction, commitment, performance, retention)
you are more motivated and energized upon returning to work
employees report feeling more challenged and stimulated by their work, increased understanding of other organisational functions, and less 'key person risk'. This notion of less risk was raised by some employees who believe the organisation as a whole is more resilient now when confronted with unexpected events, such as the absence of a key person or an extreme weather event.
reduced working hours can only be viable if employees meet, and where possible exceed, the agreed productivity measures. There is much motivation to do so. Many employees see the reduced working hours as 'a gift' and 'a privilege not a right', and feel a deep sense of goodwill and reciprocity towards the organisation, which manifests in an openness to 'go the extra mile' and think about 'what I can do to give back'. Many employees reported a willingness to be available for work purposes on their day off.
Employees were also happy and inspired with their lighter schedule and said it "motivated them to find ways of increasing their productivity while in the office."
Employees reported a 24% improvement in work-life balance
The shorter workweek also motivated employees to make the most of their long weekends:

more time to participate in family life:

working (grand)mothers and (grand)fathers being more actively involved in children's lives (sharing meals, attending day-care/school activities, talking and connecting, etc.) (please add photos)
helping extended family members with their needs.
improved spousal and familial relationships.

spend 'quality time' with friends, family, or themselves on a weekend .
Feeling 'less psychologically rushed'
having more time to restore and reconnect
reconnecting with hobbies and interests that have 'started to suffer'.
doing more activities for your-self – any sport: gym, swimming, take care of your healthy, home-cooking, completing more house-work, gardening projects…
more time to learn and contribute:

formal and informal study and professional development.
time to established volunteer and community work

additional time to explore and imagine:

seeking out new travel, leisure and consumption activities
engage in further education work

help to save money
people had to 'think differently' about their work both individually and as a team
many employees expressed a sense of greater voice and empowerment in their work
employees designing and implementing innovations and initiatives to work in a more productive and efficient manner:

automating manual processes
changes to meeting behaviour (shorter, focused, only when necessary)
sharing email inboxes
phone call forwarding systems
using new smart-phone applications
installing instant chat functions for team communication
using technology to connect with clients (phone calls as opposed to face-to-face to save commuting time)
combining meal breaks with work tasks
prioritising, planning and focusing on work tasks, and reducing or eliminating non-work related internet usage.
In contrast, there are some possible challenges:
There is a necessary time period to prepare for the switch
Individuals or teams who experience greater workloads might be unable to fully (or partially) make the shift
Others may find themselves working compressed working hours (10 hours in 4 days) as opposed to reduced working hours.
Managers could find it particularly difficult to reduce their working hours. They may need to delegate more work, and/or change one's habits and assumptions.
---
Share now if you feel the same: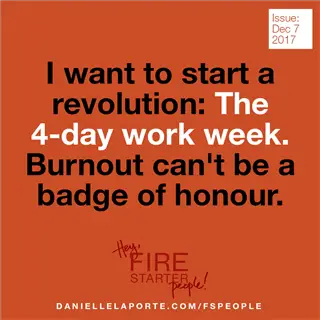 For most part of this article we used information published by 4dayweek.co.nz. We were inspired by Perpetual Guardian experiment.