Costco Deli offers a fine alternative to takeout. You can order a wide variety of tasty foods to go, not to mention a collection of freshly prepared meats that are available by the pound. Nothing can be more tiring than shopping for groceries, so why not recharge with some great grub at Costco Deli ?
Better still, why not opt for one of their many party platters? They come with great prices like other goods at Costco Deli, and make for a fine option for the next time you are throwing a party. If you are starting your own Catering, Costco can also help you control the costs of food.
COSTCO DELI PRICES
HOT FOODS TO GO

Chicken Bake
chicken breast, cheese, bacon, caesar dressing
$2.99
Hot Turkey & Provolone Sandwich
oven browned turkey, provolone, red onions, tomatoes, basil garlic, mayo on a toasted torta roll
$3.99
Barbecue Brisket Sandwich
USDA Choice Beef Brisket, BBQ Sauce, Coleslaw
$4.99
Italian Sausage Sandwich
with roasted peppers & onions
$2.79
1/3 Pound Cheeseburger

$4.99
1/4 Pound Hot Dog
All Beef
& 20 o.z soda (refill)
$1.50
1 Slice Pizza Combo

$1.99
18 Inch Whole Pizza Combo
$9.95
Chicken Caesar Salad
$3.99

BEVERAGES, DESSERTS & SODA

Fruit Smoothie
4 servings of fruit
$2.99
Latte/Mocha Freeze
$1.45
Twisted Churro
$1.00
20 o.z soda
with refill
$0.59
COSTCO DELI PRICES PER POUND

Atlantic Salmon Fillet
1 Lbs
$8.99
Steelhead Fillet
1 lbs
$7.49
Tilapia Fillets
1 lbs
$4.99
Tiger Shrimp
1 lbs

$11.06
Pork Loin Back
1 lbs
$2.49
Pork Louis Ribs
1 lbs
$2.25
Boneless Pork Shoulder
1 lbs

$1.77
Beef Short Ribs
1 lbs
$6.37
Rack of Lamb
1 lbs
$8.98
Lamb Legs Boneless
1 lbs
$4.52
Boneless Skinless Breast
1 lbs
$2.78
Wings
1 lbs
$2.78
Beef Loin New York Steak
1 lbs
$5.99
Lamb Rib Roast (Imported)
1 lbs
$9.99
Beef Rib Eye Vacuum Packaged
1 lbs
$7.99
Beef Rib Eye Boneless
1 lbs
$10.59
Beef Loin Tenderloin Vacuum Packaged
$10.29
Mequite Seasoned Wings & Drums
1 lbs
$4.99
Rotisserie chicken
3 lbs
$4.99
Vegetable Platter
low fat dressing
4 lbs
$9.99
Fresh Cut Fruit Bowl
3 lbs
Dry Rub Ribs
St. Louis Style
1 lbs
$2.99
Chicken Wings with Garlic Pepper Seasoning
1 lbs
$2.79
Boneless Skinless Breast
1 lbs
$2.79
COSTCO DELI PLATTERS PRICES

Shrimp Platter
serves 20 - 24
$39.99
Chicken & Swiss Roller
serves 20 - 24
$29.99
Sandwich Platter
$29.99
Meat & Cheese Platter
serves 16 - 20
$26.99
Roasted Chicken Swiss Roller Platter
20 - 24
$29.99
Shrimp Platter with cocktail Sauce
20 -24
$39.99
Croissant Sandwich Platter
chicken/roast beef/ham
serves 16 - 20
$29.99
For one thing, Costco Deli prices are very affordable whether you are buying a single item for your lunch or a selection of products to use at home, you can be sure of finding great value for money with Costco Deli prices.
Take the hot foods to go for example. These include popular foods like sandwiches, burgers, hotdogs, and pizza slices, and are available for as little as $1.50. In fact, the average price for these foods never exceeds $5! Unless you are going for a mighty 18-inch pizza – which is still only $9.99!
These great prices can be found throughout Costco Deli menu. For instance, by ordering foods by the pound, you can get even more bang for your buck when it comes to your favorite meats, vegetables and seafood.
Prices for these products can start as low as $2, with average prices ranging from $5-$10 per pound depending on the type of food. For example, a pound of boneless chicken breasts costs just $2.79, while a boneless ribeye steak starts at $10.50 per pound.
Furthermore, you can stand to make a fair few savings on Costco Deli prices by ordering in bulk. Platters are ideal for many occasions, from birthday parties to having your friends round for gameday.
Prices average between $29.99 and $39.99, and you can order many different types of platters, from sandwiches to shrimp.
Costco Food Court Menu
As you can imagine, the Costco Deli menu comes with a fine selection of different products. These include hot food that can be eaten there and then, to popular deli products such as meats and party platters.
What better way to recharge after a long hard shop than to enjoy some great food? Well, that's exactly what you can expect to find with Costco's hot food deli counter. Here you can find sandwiches, burgers, pizza, and hot dogs along with different beverages and desserts!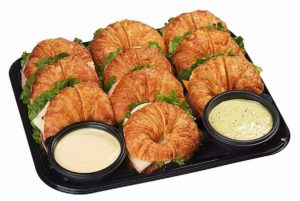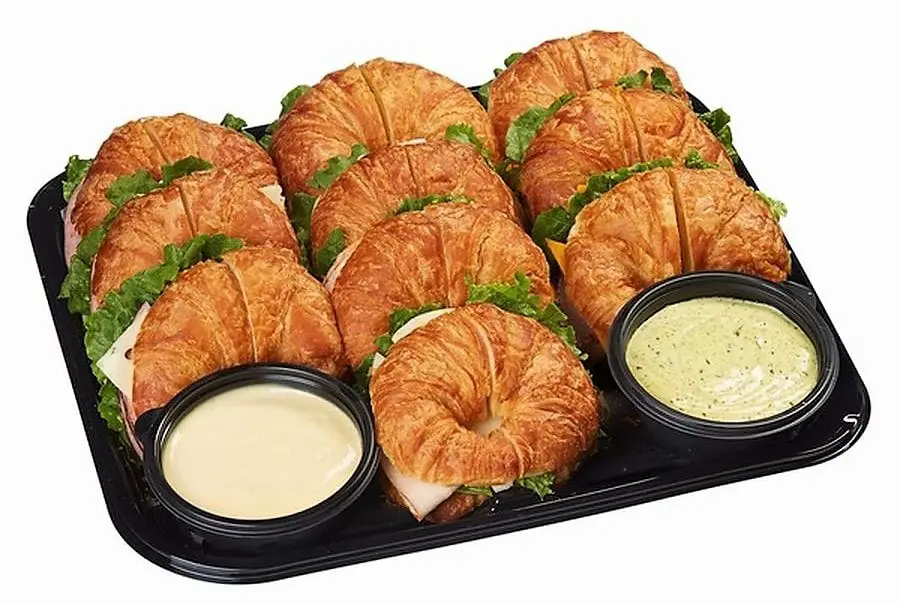 Should you want some fresh meats or other produce, then Costco Deli has got you covered. They provide many different types of produce, including seafood, poultry, cold and fresh cuts of meat.
These are available by the pound, meaning you can buy as much or as little as needed!
For instance, there are many different types of chicken available, such as rotisserie, breasts, wings and drums. Likewise, cuts of beef are varied too, with the likes of rib eye, tenderloin, New York strip, and ribs all available.
Beyond these are a fine selection of other popular meats such as pork and lamb, not to mention an extensive selection of seafood favorites that will not disappoint.
Related Article:
Costco WareHouse Hours Near Me